Hard work, effort and dedication culminated in the Millennium Youth Camp gala event on June 9th when campers presented their projects to an audience of ambassadors, educators, scientist, representatives from companies and their peers.
Guner Ege discussing the Bio team roject with te Turkish ambassador. Photo: Ella Brandt.
Although no-one admitted to being nervous there was a distinct tingle of excitement that built up during the poster hanging and dress rehearsal. This year the gala was held at the trendy Kino K-13, an old movie theatre in the centre of Helsinki.
There were, of course, welcoming speeches and wise words by distinguished guests as well as music by three talented campers.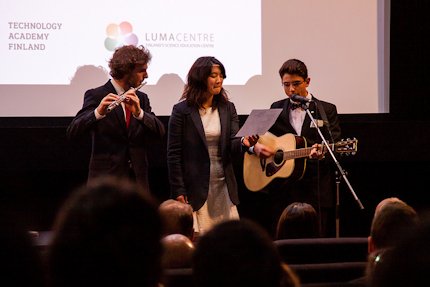 Gabriel, Bokyong and Francisco on stage at the gala performing Pompeii by Bastille. Photo: Ella Brandt.
After the awesome, clever and confident presentations followed a lively poster session where the campers could really show their expertise. The confidence and pride they took in their work shone in their eyes and flowed in their eager words as they talked about their work.
"The campers have a huge thirst to learn and keep taking science further," said the camp's coordinator Sakari Tolppanen.
Further wise and encouraging words were shared by the mentors who introduced their teams to the audience:
"It is useful and important to have fun"
"Keep asking questions and do not always take the first answer for granted"
"Newborn calves are not afraid of tigers. This old Chinese proverb has been proven true by you campers. Stay brave and fearless."
"Make more impossible possible!"

Team Applied Mathematics posing for the camera together with the team experts. Photo: Ella Brandt.
Here are the projects the theme groups have prepared before and during the camp. Check out the posters from the international Millennium Youth Camp 2014!
Team Applied Mathematics
Download the poster: Trashopoly (pdf)
Team Biosciences and Biotechnology
Download the poster: Curing Sickle Cell Anemia by Genomic
Edition of Induced Stem Cells (pdf)
Team Climate and Climate Change
Download the poster: Qihou Stadt (pdf)
Team Energy
Download the poster: Analysing the efficiency of a solar-powered PEM electrolyser/fuel cell system (pdf)
Team Food Science and Food Technology
Download the poster: " A sustainable package for beef (pdf)"
Team ICT
Download the poster: Optimizing traffic through automated aerial traffic monitoring (pdf)
Team Material Science
Download the poster: " Gallium Arsenide for PV applications (pdf)"
Team Renewable Natural Resources
Download the poster: Towards a greener tomorrow (pdf)
Team Urban Planning
Download the poster: " Proposal for Otaniemi 2020: "Urban heart, campus spirit" (pdf)"
Team Water
Download the poster: " Shift happens: from conventional to solar wastewater treatment (pdf)"
The main organizers of Millennium Youth Camp are the LUMA centre at the University of Helsinki, Technology Academy Finland and Aalto University.
Who are the Millennium Youth Campers? Read the group introductions from Millennium Youth Camp profiles. Find out what's going on at the camp from camp news in MyScience, check out awesome photos in Flickr and watch videos in Vimeo