The European Journal for Young Scientists and Engineers is an open access, peer-reviewed scientific journal publishing original research in a variety of scientific disciplines and areas. All young scientists aged 14 to 21 are eligible to submit their work!
Music at a concert, the noise of traffic and even the sound of your own voice can be used to charge a smartphone. A prototype device uses an innovative nanogenerator to power up from sound.
Hard work, effort and dedication culminated in the Millennium Youth Camp gala event on June 9th when campers presented their projects to an audience of ambassadors, educators, scientist, representatives from companies and their peers.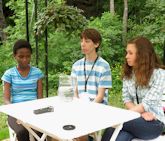 Finding meaningful links between different disciplines and topics is what takes thinking and ideas foward. Millennium Youth campers Fiyi, Yuval and Neja talk about their projects and how they connect in real life.
Everyone needs a break from the things they care about the most, even Millennium Youth campers. At the international evenings everyone gets to present their own cultures to the others. These cavalcades of different cultures is one of the highlights of the camp.