"My dream is to contribute to food technology to improve the safety of food," says Kristýna Simková from Czech Republic. Other members of Food Sciences and Food Technology team come from: Hungary, Finland, China, Greece, and Slovenia.
The Food Sciences and Food Technology team of Millennium Youth Camp 2013 are working on a project on the role of protein in good nutrition, keeping in mind the sustainable use of resources by comparing animal and plant based protein.
During the camp, they will make experimental yogurts of plant origin in the lab of University of Helsinki's Department of Food and Environmental Sciences.
Here are the members of the team:
Imola Toth, Hungary

"I would like to turn my ideas into innovation in an environment of creativity, collaboration and interaction provided by MY Camp. I intend to join a group of youngsters with overlapping interests to develop our individual contribution for sustainable development," says 17-year-old Imola Toth from Debrecen, Hungary, where she studies in Teacher's Practice Grammar School L. Kossuth, focusing especially on biology and chemistry.
"I'm interested in the functioning of the human body: nutrition, the immune system, autoimmune processes and allergies, food resources, the diversity of cultivated plants and domesticated animals," she says.
"I have celiac disease and I would like to know more about gastroenterology and also how a food intolerant people can manage their everyday life."
Imola is hoping that MY Camp will provide her with some ideas for her future studies and career. At the moment, the fields of Human Medicine, Veterinary Medicine, Agriculture and Park and Landscape Management interest her the most.
Apart from science, Imola likes to play volleyball and read novels. She is also involved in the editing of her school's newsletter.
Emma Davies, Finland

"I am especially interested in food science, because I want to know how food affects people. I'm also interested in medicine and forensic science, because I enjoy studying the DNA in biology," says Emma Davies, 18-year-old IB student from Tampere, Finland.
"I am still not sure what I want to do for a career, but I hope to work with science. For example, my dream job would be a forensic scientist, pediatrician or to work with food science."
In addition to science, Emma's interests include literature, playing the violin and piano, and sports. From MY Camp, she expects to get international friends and learn a lot.


Kristýna Simková, Czech Republic

"If you look deep enough, you can find logic in science. At the end you discover connections, which weren't obvious at first, but then it makes perfect sense. I always love to find a connection like that," says 19-year-old Kristýna Simková from Czech Republic.
Her plans for the future include university studies in Biochemistry or Food science. "My dream is to contribute to food technology to improve the safety of food."
Kristýna likes meeting new people and learning about other cultures. "At MY Camp, I expect to broaden my knowledge of science, especially of food science and I'm looking forward to working with my team and experts in the field," Kristýna says.
She is also looking forward sharing her ideas with her fellow campers and gaining new aspects to sustainability.
Mingkai Deng, China

15-year-old Mingkai Deng from China is particularly interested in Chemistry and Computer science. "I always endeavor to study the nature of things that form us, and why they work the way they work, rather than simply how they work. I also hope to know the nature of the dazzling computer programs which surround us and be able to create them one day."
After high school, Mingkai would like to study a field related to software engineering outside his home country. "One of my goals is to end up as a CTO of an IT company."
During MY Camp, Mingkai would like to learn more about his second passion, chemistry, and the possibilities in the field. "I also expect a perfect opportunity to communicate with future leaders in various scientific fields."
Symeon Dontsopoulos, Greece

"I have always been fascinated by and interested in Biology and Chemistry. Both attempt to interpret life, Chemistry in the microscopic and Biology in the macroscopic way and can thus lead to understanding and respect towards nature and all its creatures," says 16-year-old Symeon Dontsopoulos or Simon from Athens, Greece.
He will graduate from historical Arsakeio high school next year. "My main target right now is to do well in the final exams, which are usually very challenging. My dream is to study veterinary sciences," he says.
Simon expects MY Camp to be an unique experience. "It's an opportunity to get to know, interact and cooperate with people from many different cultural backgrounds, hear about their beliefs and ideas and to meet scientists and professionals successful and experienced in their fields."
Simon is also thrilled to visit some of the sights of Finland. "I have heard that Finland is a truly beautiful country!"
Vivian Mohr, Slovenia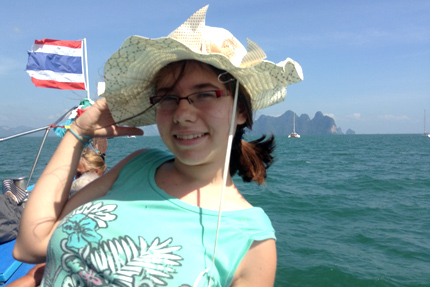 "I am very interested in chemistry, pharmacology, genetics… But I think that the most interesting and challenging part of science lies in connecting different scientific branches and working on the problem from many different views. I prefer working on interdisciplinary projects than focusing on a single type of science," says 15-year-old Vivian Mohr from Slovenia.
Vivian's plans for the future include studies in medicine. "Above everything I would like to help people and work as a neurosurgeon someday."
Vivian is looking forward the week in June she will spend at MY Camp. "I expect to meet a lot of amazing people: top scientists and teenagers from all over the world, with similar interests and learn some interesting stuff. I'm very excited about spending a week with people from so many different cultures."
The main organisers of Millennium Youth Camp are Finland's Science Education Centre LUMA and Technology Academy Finland.
MyScience will introduce each of the 10 theme groups during the spring, and like during previous years offer news, photos, and videos from the Camp in June.