At noon on Tuesday, the EUCYS contestants, and other guests gathered to prestigious Great Hall of the University of Helsinki. The grand prizes went to Ireland, Switzerland, and Lithuania. In the evening, it was time to party.
"The best thing about science is that it is a continuously advancing subject. There is always something you can learn," says 16-year-old Alexander Amini from Dublin, Ireland.
Alexander is one of the three 1st Prize winners of EUCYS2011. In his project, he gave tennis players 3 Axis accelerometers, and developed classification software to analyse real-time inertial data and classify tennis players' strokes with an accuracy averaging over 96%.
As a tennis player himself, Alexander says he has been fascinated by trying to help athletes through technology. In the future, he would like to study computer engineering in university and build a career that combines science and entrepreneurship.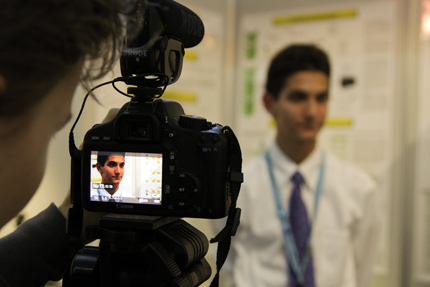 Alexander interviewed. Photo: Sakari Tolppanen.
Alexander encourages also other young people pick a subject that fascinates them for their science projects. "It helps when you pick a subject that fascinates you. I was able to apply my project into tennis."
Alexander was not the only first prize winner, who had turned his hobby into a science project. 19-year-old Pius Theiler from Switzerland has developed a highly innovative device for rock climbers like himself.

Rock climbing gear at Pius' stand. Photo: Sakari Tolppanen.
After series of prototypes, Pius designed strong but light device, pi Cam, which is the first reliable camming device that can be attached to rock protuberances (watch video).
The third 1st prize winner had taken a slightly different approach to his project. "When I was younger my parents always said that be careful with flies, flies are not good, because they can spread diseases and infections." In his project, 18-year-old Povilas Kavaliauskas from Lithuania wanted to find out if it really was true.
He discovered that houseflies only spread bacteria nearby contaminated areas like hospitals.

Povilas interviewed. Photo: Sakari Tolppanen.
Povilas' plans for the future include university studies in medical microbiology and a career in research. He stresses the importance of seeing the beauty of science and encourages other young scientists to try and try to come up with something that can be made into a really good and significant project.
In addition to 1st, 2nd and 3rd Main Awards, three each and the International Award, altogether 20 projects were awarded by participating organisations and enterprises. Among them Finland's Jarkko Etula, who got the Year of Chemistry prize.
"The future is in safe hands and creative minds," said the President of EUCYS Jury Maria-Ana Viana Baptista. She recommended that each of the 134 contestants try and pursuit a career in science. "Those who are not awarded, do not give up science."
In the evening, during the farewell party at the Museum of Technology with dining, dancing and a performance by beatboxer Felix Zenger, EUCYS student helpers gave away a bit different kind of awards to some of the contestants…

The Three Musketeers of Denmark: Frederik Rasmussen, Morten Nielsen and Magnus Laursen. Photo: Sakari Tolppanen.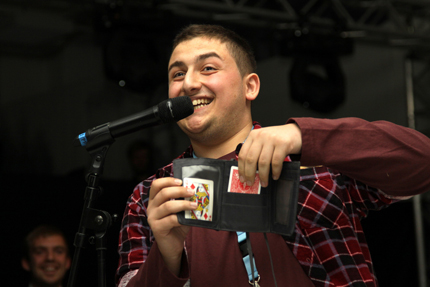 The Magical Mystery from Georgia, Irakli Saralidze. Photo: Sakari Tolppanen.
Check out all the official prizes and winners from EU RAPID site.
Check out also MyScience on Flickr and Vimeo for more photos and videos from EUCYS2011.
Are you EUCYS 2011 participant? Now it's your chance to get your research published in a peer-reviewed journal. Read more about European Journal for Young Scientists and Engineers.