Everyone needs a break from the things they care about the most, even Millennium Youth campers. At the international evenings everyone gets to present their own cultures to the others. These cavalcades of different cultures is one of the highlights of the camp.
The International evenings of the Millennium Youth Camp must be one of the rare events where the entire crowd volunteers without hesitation to learn traditional dances, taste mysterious and strange treats and to enjoy to the fullest glimpses of cultures worldwide.

Photo: Ella Brandt.
Each of the campers presents something special or unique about their country through pictures, stories, music, dance or by any other means they like. As there are 59 campers and nearly 30 countries to cover, the result is a talent show that guarantees a smile on everyone's face.

Photo: Ella Brandt.
Congratulations and a great big thank you to this year's amazing campers who bravely took the stage and completely owned the international evenings!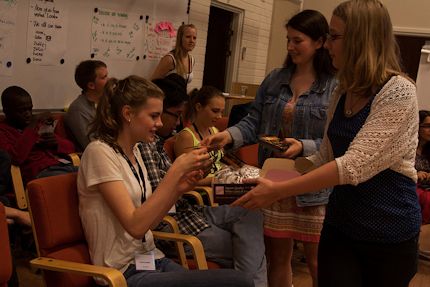 Photo: Ella Brandt.
The main organizers of Millennium Youth Camp are the LUMA centre at the University of Helsinki, Technology Academy Finland and Aalto University.
Who are the Millennium Youth Campers? Read the group introductions from Millennium Youth Camp profiles. Find out what's going on at the camp from camp news in MyScience, check out awesome photos in Flickr and watch videos in Vimeo