On Thursday the campers spent an interesting day visiting mentor companies or research institutes around the Helsinki metropolitan area.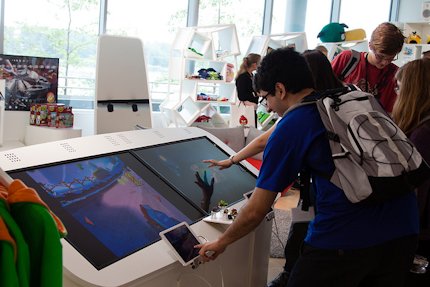 Touch'n'go at the heardquarters of Rovioe Entertainment. Photo: Ella Brandt.
Here are a few examples of what was going on on this lovely and hot summer day:
The ICT and Applied Mathematics teams were hosted by Rovio Entertainment, the creators of the Angry Birds games.

Team Applied Mathematics and their experts put on wide smiles for the camera posing together with with Angry Birds. Photo: Ella Brandt.
Rovio's Mighty Eagle Peter Vesterbacka gave interesting insights to the factors behind the Angry Birds success story. According to Vesterbacka their franchise has been successful because of three things: first of all the users, second, technology and third, business.
Lead Programmer at Rovio, Sylvain Cunzi, revealed that advanced mathematics were an essential part of his own studies when he was beginning his career as a programmer.
Rovio is pursuing a fruitful collaboration with NASA and plans to develop the educational applications in their games.
"We are going to make learning fun," Vesterbacka said.
Team Urban planning took to the streets of Helsinki to find traces and seeds of sustainable development in the bustle of the capital.
"Ducks and Dogs are awesome, a good city has animals," the team concluded after admiring geese by the Töölö bay in the summer sunshine.
The Water team got a chance to follow actual processes at a state-of-the art waste water treatment plant and to visit the research laboratories of Kemira, one of the world's leading developers of environmentally friendly solutions and chemicals for water-intensive industries.

The Water Team conducting experiments at Kemira's research facilities. Photo: Olli Aksela.
Team Renewable Resources was treated a to an amazing experience at the heart of a real Finnish forest. With experts from UPM -the Biofore Company the campers plated their own spruce saplings to a clearing in the forest.

Christian Ogochukwu Okoye from Nigeria starting ecosystem services that mitigate climate change, among other benefits. In other words, he's planting a spruce tree. Photo: Maija Pollari.
Timo Lehesvirta from UPM talked about his area of expertise, ecosystem services, which includes all the benefits we get from forests. "Each tree is an amazing ecosystem service package and forests are inseparable from global megatrends," he said.
Lehesvirta also encouraged the planters: "Planting trees is a symbol of long-term responsibility. When you plant a tree, you are starting a long, beautiful and complex story."
The main organizers of Millennium Youth Camp are the LUMA centre at the University of Helsinki, Technology Academy Finland and Aalto University.
Who are the Millennium Youth Campers? Read the group introductions from Millennium Youth Camp profiles. Find out what's going on at the camp from camp news in MyScience, check out awesome photos in Flickr and watch videos in Vimeo
You can also follow the campers' own blog at www.millenniumyouthcamp.blogspot.com