The opening ceremony of the Millennium Youth Camp was held at the Kumpula Science Campus. A bright summer sunshine favored the traditional highlight of the opening day: the Amazing Race of Sciences!
Although a few campers had arrived late in the night, everyone was ready in the morning to head to the University of Helsinki.
The bus ride takes us through the lovely, lush green countryside of Southern Finland with glimpses of the sea and archipelago.
Tarja Halonen, the former president of the Republic of Finland was the guest of honor at the opening ceremony. In her opening speech she encouraged the campers to make the most of their talents in tackling global challenges.

President Tarja Halonen had time for questions (and selfies!) with the campers. Photo: Ella Brandt.
"From financial crises to climate change, we face the fact that local and global issues are closely connected. The future is also more unpredictable than before. Therefore, it is important that the young students of today are given the tools they will need to live in the world of tomorrow."
Halonen emphasized the importance of being open to new ideas. She also came with a piece of advice to the campers:
"Keep your personality and your sense of humor. If you do not succeed, you must try again. And again, and again."
In Kumpula the campers also met the experts of their theme groups face-to-face and began working on their projects before exploring the campus and putting their teamwork skills into test in the Amazing Race of Sciences.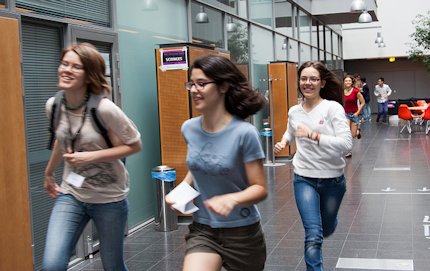 Another quest completed, where's the next? The Amazing Race of Sciences is a tradition at the opening of the Millennium Youth Camp. Photo: Ella Brandt.
Another experience of the fully action-packed day was a visit to the Demo Day event at the Start Up Sauna, an incubator organization and start up accelerator for companies and fresh ideas.

Start Up Sauna at the Aalto University campus in Otaniemi was teeming with enthusiastic entrepreneurs and innovators. By the way, the red truck is a sauna-on-wheels with a terrace on the roof. Photo: Ella Brandt.
The energetic atmosphere at the Demo Day was inspiring. The aim of the event was to encourage entrepreneurship and many in the crowd took heed of the message: "Dream big, focus, remember that teamwork is everything, listen to others but make your own decisions."
The main organizers of Millennium Youth Camp are the LUMA centre at the University of Helsinki, Technology Academy Finland and Aalto University.
Who are the Millennium Youth Campers? Read the group introductions from Millennium Youth Camp profiles. Find out what's going on at the camp from camp news in MyScience, check out awesome photos in Flickr and watch videos in Vimeo
You can also follow the campers' own blog at www.millenniumyouthcamp.blogspot.com