The fifth International Millennium Youth Camp kicked into action today when 59 enthusiastic teenagers from all over the world were welcomed to Finland for an intensive week with science, research, technology and fun!
Meeting and making new friends on the first day of the camp. Photo: Ella Brandt.
For the Millennium Youth campers today was a day of many meetings.
The International Millennium Youth Camp was held for the first time in 2010 making this year's camp the fifth. Ten theme groups give plenty of opportunities for the exchange of ideas ranging from Biosciences and Biotechnology to ICT, Material Sciences, Energy and Urban Planning among other topics.
During the spring each theme group has worked together online preparing research projects that will be finalized during the week in Finland.
The teams have been mentored by expert scientists who will work with the campers also during the camp.
"This year the top candidates stood out with their high motivation and especially interest and experience in chemistry and science," says researcher Sari Rautiainen from the Laboratory of Inorganic Chemistry at the University of Helsinki Rautiainen coaches the Renewable Resources team.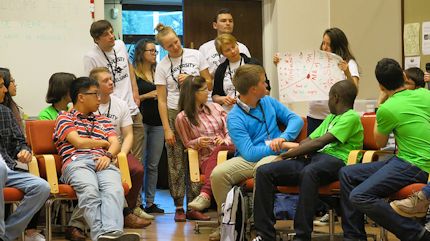 Team Applied Mathematics presenting two true facts and one false about their group. Photo: Ella Brandt.
The first evening was spent settling in and getting to know each other. During the evening the anticipation and travel-worn mood soon relaxed into laughter and lively chatter with everyone participating in the activities. Names, already familiar from social media, e-mails and Skype calls could finally be attached to the actual people.

Fiyinfoluwa Soyoe from Nigeria and Sruthi Vydyula from India enjoying the welcome party. Photo: Ella Brandt.
This year's campers are not only amazingly talented and interested in science and research but also tuned to networking and communication. The campers have for example set up their own Millennium Youth Camp blog you can follow at www.millenniumyouthcampblog.blogspot.com.
The main organizers of Millennium Youth Camp are the LUMA centre at the University of Helsinki, Technology Academy Finland and Aalto University.
Who are the Millennium Youth Campers? Read the group introductions from Millennium Youth Camp profiles. Find out what's going on at the camp from camp news in MyScience and check out awesome photos in Flickr.