"My dream is to find a career which combines the knowledge of sciences and the humanities. Whatever it is I do, I want it to have a positive and lasting impact on the lives of others," says Sruthi Vydyula from India. Other members of Team Water come from Brazil, Canada, Israel, Thailand and Turkey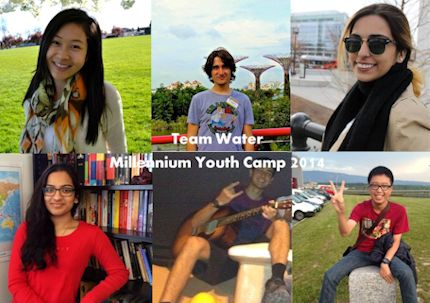 This year Team Water has for example been looking at possibilities of using waste water as an alternative, sustainable energy source. Here are the members of the team Water 2014:
Mariam Topeshashvili, Brazil
"I am looking forward to share my life experience and goals with other international students that share the same interests and dreams for the future," says Mariam Topeshashvili from Brazil.
17-year-old Mariam is finishing high school and is currently working as an intern at the South American CENPES-PETROBRAS research center. Her work involves research on toxicology in the departments of ecotoxicology and organic chemistry.
"My interest in science rose when I was only nine years old. My father introduced me to Cryptography and I immediately became interested with the fact that letters could have a value and that languages could be so intensely entangled to math. Later on I discovered Chemistry and I fell head over heels."
In her free time Mariam enjoys reading, traveling and ice skating. In the future she would like to study abroad, possibly political sciences, economics and international business which she hopes to combine with skills in natural sciences in order to build a career dealing with environmental issues.
She can't wait to meet her fellow team mates and all the campers in June. "I am looking forward to share my life experience and goals with other international students that share the same interests and dreams for the future."
Vivian Lee, Canada
"The Millennium Youth Camp was one of the challenges that stood out to me – unlike a regular science camp, it is pulled together by central theme of pressing concern and in this case, environmental sustainability," says 17-year-ol Vivian Lee from Canada.
Vivian describes herself as "an optimist, classical musician, national dragonboater, ice cream lover, International Baccalaureate student, and a learning enthusiast." Her favorite activities include yoga, volleyball, photography and humanitarian voluntary work.
"I strongly advocate healthy living and the concept of environmental sustainability. In the future, I hope to become a general physician. I would also like to continue with my humanitarian work on both a local and international basis."
Currently a high school student in Vancouver, Vivian hopes to pursue studies and a career in medicine or natural sciences with a focus on health. At the moment she is also interested in geography, which has emphasized her love for traveling and learning about different cultures.
She's enthusiastic about participating in the Millennium Youth Camp where she expects to find out more about the integration of different disciplines.
"I hope to explore the integration of various fields of science, learn from influential experts, and share my passion for biology and chemistry with youths from around the globe."
Sruthi Vydyula, India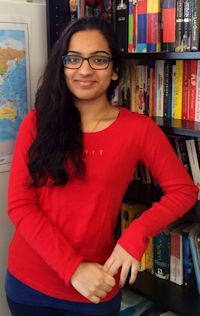 "My dream is to find a career which combines the knowledge of sciences and the humanities. Whatever it is I do, I want it to have a positive and lasting impact on the lives of others," says 16-year-old Sruthi Vydyula from India.
Sruthi has lived in Finland for the past ten years and s at the moment an high school student in Helsinki. She enjoys reading and playing the violin and has recently started dancing salsa. Her enthusiasm in science was sparked in the early teens by a book by Bill Bryson: "A Short History of Nearly Everything".
"While at that age, I couldn't understand everything in the book, but I still loved learning about the world, especially the big bang and how the earth was formed."
Although she has not yet decided on a direction for her studies or career, Vydyula hopes to be able to combine natural sciences and humanities in a meaningful way.
"Today, one of other reasons I am interested in science is the fact that it holds the key to solving many of the problems and crises we face today, such the need for clean water and the uneven distribution of food."
She expects the Millennium Youth Camp to be a chance to meet new people from around the world, to share knowledge and to discover different views on science.
Dan Loewenthal, Israel
"Learning is my biggest passion right now, from learning new songs on musical instruments, to all fields of science," says 15-year-old Dan Loewenthal from Israel.
Music is a big part of Dan's life. He plays several instruments such as piano, guitar and saxophone.
"I play mostly jazz music, because it is complex and interesting to the player, although I do not hear jazz music as much as I hear reggae and rock music. I guess that when I hear music I try to chill down, and complex music does not fit that purpose well," he says.
While he is pretty busy with school work, he tries to find time for his other hobbies as well: debate and sports such as basketball, surfing and skiing.
He's happy about being accepted to the International Millennium Youth Camp and hopes to get to know interesting and smart people from all around the world. Dan would like to learn about their life and culture. He's also expecting Team Water to explore some innovative solutions and ideas to current global problems associated with the availability of clean water.
"I try to learn as much as I can, for pure understanding of the world around me, and I hope to maintain that for the rest of my life."
Tanawat Techapanuwat, Thailand
"Knowledge is nothing without sharing," says 17-year-old Tanawat Techapanuwat from Thailand.
Tanawat attends a boarding school and thinks that science challenges humanity to strive for better life quality and to view the world differently.
He's not only enthusiastic about science but is also passionate about poetry, psychology and education in general. His dream is to share his passion for learning by becoming an inspirational and motivating teacher or a chemist who could contribute to new innovations.
"I do believe that education is the key to improve the world. Apart from that, I love singing and dancing to various genres, from Thai traditional country music to western pop music."
He thinks the International Millennium Camp is a great opportunity to brainstorm and collaborate with bright students from around the world.
"I expect that this camp will give me more than a chance in science knowledge. I also think that it is important to learn about the culture of Finland."
Sercan Durmus, Turkey
"I am very passionate to be someone who is aware of the world around himself," says Sercan Durmus from Turkey.
17-year-old Sercan is currently an IB student in Istanbul. He loves music and has played the violin for eleven years. He also supports sustainability and promotes ecological lifestyles and choices through membership in Greenpeace. To relax, he likes to practice meditation techniques or watch his favorite TV shows.
"My enthusiasm in science started when I was a child. I saw several people who have developed something that changed millions' lives. I always dreamt to be one of them." More recently an inspiring teacher sparked his interest in chemistry and Sercan says that in the future he wants to study chemistry in college. At the moment he's learning German because his dream is to live in Germany.
In addition to chemistry and other natural sciences he would like to study social sciences, arts and humanities to become more aware of the world around him. "I want to be a chemist who contributes something in his field and who has grown awareness for everything, for arts, environments, science etc." he says.
He is eager to meet everyone at this year's Millennium Youth Camp and looks forward to getting to know Finland and its culture.