"I think it's amazing how every single day we find out something new about us and our world through the tools that science provides us. I know that somewhere, something incredible is waiting to be known- the important thing is to never stop questioning," says Shahar Silverman from Israel. Other members of Team Material Sciences and Material Technology come from Australia, Chile, Ghana, Lithuania and Turkey.
Here are the members of Team Material Sciences and Material Technology:
Rachel Leung, Australia
"I find science fascinating and would like to encourage more people to understand and embrace it," says 17-year-old Rachel Leung from Australia.
Rachel enjoys tennis, snowboarding and travelling and is an active community member at the Australian Science and Mathematics School. "I take part in many leadership activities and I love meeting new people!" she says. In addition she's challenging herself by taking first year physics courses at university.
She is passionate about environmental issues and wants to steer her home country towards more sustainable and environmentally friendly choices.
"Australia has an excellent geographic location to harness solar thermal energy and has developed world leading solar thermal technologies, but with only very low level of actual use in daily life. As an Australian citizen, I believe Australia has the ability to be a much more sustainable and environmental friendly country."
Another field of science that fascinates her is nanotechnology, which interests her as a possible career option. "To be honest I am not entirely sure what I will be doing in 10 years' time, but I hope I will be able to apply my knowledge and skills to help people in need by inventing something that can significantly improve life quality."
She's looking forward to making new friends at the Millennium Youth Camp and to learning from all the campers, guides and experts she'll meet. She's also hoping for co-operation between the different theme groups.
"I expect Millennium Youth Camp will be an open and friendly environment that allows students to be creative and share ideas."
Nicolas Henriquez, Chile
"Right now, I'm passionate about learning Computer Programming! I just started, but I find it really interesting," says 17-year-old Nicolas Henriques from Chile.
He specializes in playing string instruments such as electric and acoustic guitar, sitar and violin, and likes many things ranging from photography, philosophy and reading to cooking Indian food. His favorite music and inspiration for learning the guitar is the English rock band Pink Floyd.
"Everything seems fascinating to me, specially science, art, and music. I love physics, and I plan to become an astrophysicist someday. I also like Computer Science and Biology."
While he has always been interested in chemistry and biology subjects, his fascination for physics was boosted by popular science videos by the theoretical physicist and science communicator Brian Greene.
At the moment he's passionate about learning computer programming. "I just started, but I find it really interesting. I plan to design and create a mobile game this year, just for fun." Nicolas is planning to take his interest further and to study computer science at university along with astrophysics. After academic studies and a PhD thesis he hopes to gain experience working in research or software development in international companies.
He's very excited about participating in the Millennium Youth Camp and has already been in touch with his team mates via social media.
"I've been talking with some other guys from my group, they all seem so nice! I'm sure we are going to be an excellent team!"
Keziah George, Ghana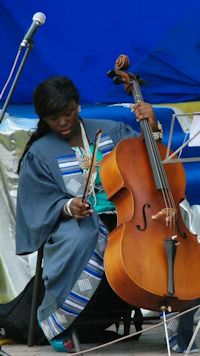 "In the future I would like to work in the research lab exploring biomaterials and energy," says 17-year-old Keziah George from Ghana.
She is a first-year student in the field of material sciences and engineering at the University of Ghana. "In my free time I love playing puzzles, surfing the net and playing board games such as chess and Monolopy. At the moment I am passionate about composite materials, chess and music."
Keziah says that she grew up in an environment where science was stereotypically seen as a male pursuit. Instead of feeling discouraged, she wanted to prove that stereotype wrong and began to challenge the guys in her math classes. Gradually what began as a competition turned into a genuine passion and enthusiasm for science.
Her dream is to explore biomaterials and energy in a research lab and to find out how things work. She is thrilled about coming to the Millennium Youth Camp and expects to learn a lot during the week.
"I hope to be able to explore materials, hopefully find another passion, learn and interact with other people while having fun in Finland!"
Eidmantas Slėnys, Lithuania
"At the moment I am passionate about physics and programming," says 17-year-old Eidmantas Slènys from Lithuania.
His favorite free time hobbies include reading books on astronomy, physics, chemistry and computer technology. At the moment he is spending time learning both Japanese and German and is a regular participant in physics Olympiads.
"Also I like traveling, programming, stargazing, playing board games, watching movies, playing chess, reading manga, detectives and many other type of books, painting or drawing something and listening to all kind of music."
He's passionate about physics and programming and found out about the Millennium Youth Camp while searching for international science camps online. "I decided to apply because I wanted to try something new and learn a lot of things about scientist's life."
His dream is to create new technologies that would make our lives easier and in the future he would like to study physics in either Tokyo, Vilnus or Boston. Later on his dream would be to work in the field of physics in a research organization like CERN.
He hopes that the International Millennium Youth Camp will be a fun, informative and creative experience.
Oğuzhan Türk, Turkey
"I'm very excited for the camp. I will meet new people and most of them are scientists of our future. And I'm going abroad for the first time in my life," says 17-year-old Oğuzhan Türk from Turkey.
He's a basketball player who loves history and music. Currently he studies science at MEF international school in Istanbul and has participated in national science competitions. In addition to teachers, his family has encouraged him towards studying natural sciences.
"I've always wanted to be an electrical engineer since an electrical engineer can work in many different kind of jobs," he says. In the future he would like to establish a leadership career in politics.
Shahar Silverman, Israel
"I am very curious about everything, and science provides me the tools to understand many many things!" exclaims Shahar Silverman from Israel.
Currently she attends the Hebrew University Secondary School in Jerusalem majoring in physics, biology and law. In addition to her studies she is an active volunteer in several organizations. Her activities include participating in ambulance paramedics and in community service through a youth leadership program called Young Leaders.
"I also enjoy reading, hiking and traveling, spending time with my family and hanging out with friends. I enjoy jogging very much and I also love music, and of course I also love science- I really enjoy making experiments and exploring things around me."
Both her parents are involved in science and their example has encouraged her interest in natural sciences, medicine and its applications. She puts a lot of passion into her volunteering activities and loves learning new languages as well.
"I can understand and speak four different languages, hopefully turning them to five. I love putting myself against new challenges and overcome difficulties."
She sees the Millennium Youth Camp as an amazing opportunity to expand her knowledge and to develop her creativity and imagination. "I thought that this camp would provide a unique chance to meet and interact with young people from different countries and cultures who are similarly curious about science."
Her dream is to continue studying science and to do combine physics and biology in her future research. She is expecting to create long-lasting friendships and to have a great learning experience at the Millennium Youth Camp.
"I hope that our team work will be productive and that we'll be able to see everyone's best work, and of course I hope that our project will be interesting and that the final product will be outstanding."