"I think it is not only possible to dream of a better world, but to actually do something to pursue this dream", says Oliver Mehling from Germany. Other members of team Climate and Climate change come from Bangladesh, Canada, Finland, Macedonia and Singapore.
The connection between air quality and climate is this year's research focus in the Climate and Climate Change theme group of the International Millennium Youth Camp. Here are the members of Team Climate and Climate Change 2014:
Shahreer Zahan, Bangladesh
"In my journey of science, MY camp will be a great addition. I hope it will be a great experience to work in the amazing Climate Change Group," says 18-year-old Shahreer Zahan from Bangladesh.
At the moment he is preparing university entrance applications in order to study astrophysics and environmental science abroad. In his free time Shahreer enjoys traveling, stargazing, making friends, learning new things and making people happy. He is also an active participant in scientific Olympiads and competitions.
His interest in science was initially sparked by the curiosity and wonder that filled science fiction books. "At the moment, I'm passionate about Astrophysics and Environmental Science. In the journey of science, I'm really interested to know what's going on the Earth and beyond."
"I'm thinking about becoming an astrophysics researcher as well as working with climate change. I've a dream to work for NASA. In future I want to be a successful researcher and write books for children to encourage them about science."
Attending the Millennium Youth Camp fulfills his dream of three years and he thinks the camp is an excellent and unique opportunity to learn with other young people interested in science. He's looking forward to a memorable week in Finland.
Alana Krug-MacLeod, Canada
"I hope I will meet scientists from around the world—people who will solve the problems we face now and in the future, and who will enable others to do so as well," says Alana Krug-MacLeod from Canada.
16-year-old Alana participates actively in several clubs at her high school in Saskatoon, which is the largest city in the province of Saskatchewan in Canada. At school she enjoys natural and social sciences as well as the arts and humanities. During her free time she loves to read and likes videography, photography and activities connected with nature.
She is passionate about climate change and works to raise awareness through the internet. She looks up to people who strive to learn more about the world we live in: "I admire anyone whose commitments lead them to learn about the world and act in ways that will transform it for the better. Whether those people are well-known or not, they inspire me!"
She expects to have loads of fun at the International Millennium Youth Camp. In addition she wants to become a better researcher and to improve her communication skills.
"I am positive I will learn about other cultures, languages and countries. I hope I will see parts of non-urban Finland so I can really experience some of its natural beauty. I am sure I will have fun and be inspired."
Vilma Kangasaho, Finland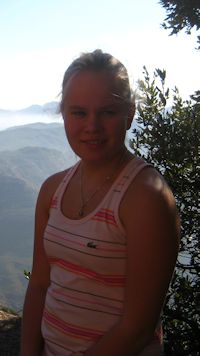 "I want to accomplish something good – perhaps change the world better and solve global problems or maybe encourage young people to do science and catch their dreams by being a supportive and inspiring teacher," says Vilma Kangasaho from Finland.
18-year-old Vilma is a figure skater and girl scout who also plays the traditional Finnish kantele instrument. She traces her interest in science all the way back to an childhood visit to a fascinating science park. More recently her high school teachers have been an important inspiration towards science.
"Actually it doesn't matter where you are or what language you speak because science is the same all around the world and you are able to understand it everywhere!" she exclaims.
At the Millennium Youth Camp she wants to meet other young science enthusiasts. She is sure that meeting other people with similar interests will be an exciting and eye-opening learning experience.
"I can't wait to meet all of the campers in June!"
Anastasija Stevchevska, Macedonia
"Where I come from, not many people are very aware of problems like pollution, energy deficits, extinction of wildlife. I want to change that and show people how everyone can make a difference," says 16-year-old Anastasija Stevchevska from Macedonia.
She attends a public school in Skopje, the capital of Macedonia, and spends her free time hanging out with friends, listening to music and watching movies. She also enjoys creative writing and is an active blogger.
"My blog is a way to express my creative side, learn something new about the topics I'm interested in like art, culture and fashion, and opportunity to meet new people from all over the world."
Science has always been a part of her life: "I was taught that everything in life is science and my eagerness for understanding and learning more in this field grew with the years."
"At the moment I'm passionate about art, art history and photography which is a subject I don't know very much about, thus makes me even more interested," she says.
After finishing high school her dream is to pursue medical studies abroad. She's looking forward t traveling to and in Finland as well as meeting new people.
"I hope to broaden my knowledge and horizons, not just in the science of climate and climate change, but about life in general. I hope to share my experience with young intelligent people from around the world."
Marilyn Wong, Singapore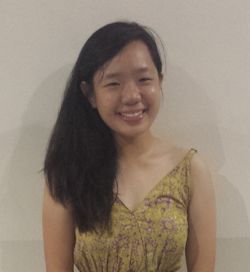 "I want to treasure every moment I have with my friends now and ensure that our friendships will last long," says 18-year-old Marilyn Wong from Singapore.
Her hobbies include running, amateur astronomy and cycling. For the past six years she has also been very interested in photography. Her enthusiasm in science grew from participation in a talent development programme, which enables her to discover intriguing experiments and research projects. "Ever since, I took a particular interest in science research and interesting science experiments."
Currently she is finishing her secondary education at Victoria Junior College in Singapore. In her opinion learning does not only happen within the limits of a syllabus or a classroom, but is rather based on personal interest to learn. Her own engagement in science was influenced by the passion of an inspiring physics teacher in secondary school.
"As I'm in my graduating year in my school, I want to treasure every moment I have with my friends now and ensure that our friendships will last long."
In addition to cherishing her existing friendships she hopes to make many new and lasting friendships at the International Millennium Youth Camp in June. Her dream is to travel the world and to engage in humanitarian work overseas.
"I want to see the different ways of life of people around the world."
Oliver Mehling, Germany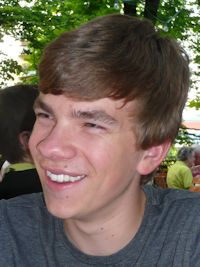 "We all focus on very interesting topics and it will be thrilling to develop our project in the Climate Change team, but also to think outside the box and work together with other groups and share interesting ideas and views," says 17-year-old Oliver Mehling from Germany.
Oliver is fascinated by all fields of science ranging from mathematics and natural sciences to history and politics. He's currently finishing high school and has simultaneously attended a few university courses as well.
"I'm really enthusiastic about many different things. I am open-minded and easy to motivate for new experiences and I've always enjoyed meeting people from different parts of the world. During my free time, my favorite activity is cycling, both on the road and mountain biking. I also love hiking and camping with my friends and family, photographing and traveling."
Currently he's passionate about environmental issues and how climate change influences our daily lives.
"I look up to everyone in science who tries to make the world a little better by his research. For example, climatologists have been changing our attitude towards our consumption of energy and fossil fuels during the last years."
At the Millennium Youth Camp he expects to meet inspiring people, to exchange different points of view and to develop creative ideas with his fellow team mates and campers.
"As climate change is a global issue, I hope our generation can build a powerful network of international scientists to fight global warming together, and MY Camp might become the "kick-off meeting" of such a great future-oriented project. I think it is not only possible to dream of a better world, but to actually do something to pursue this dream."