"Although I'm interested in many different scientific disciplines what always fascinated me most was life itself. I like learning about the details that that together make up complex organisms," says Liisa Lutter from Estonia. Other members of the Biosciences and Biotechnology team come from Argentina, Finland, Israel and Turkey.
The Biosciences and Biotechnology theme was popular already in 2013 when it made its debut among the themes of the International Millennium Youth Camp. This year it again attracted hundreds of eager and gifted applicants.
Here are the members of team Biosciences and Biotechnology:
Gabriel Goren Roig, Argentina
"I've always loved learning and analysing things as far back as I can remember. I once found an old notepad, from the time before primary school, where I had written that I wanted to be a "researcher", which I find really cute because I didn't really care what the research would be about!" says Gabriel Goren Roig from Argentina.
Currently 18-year-old Gabriel is in his last year of high school in Buenos Aires, preparing for university. He is especially interested in complex systems and hopes to work with interdisciplinary research teams in the future.
Gabriel participates actively in student affairs and politics at his school with high hopes of making a positive impact on student life.
"I'm fascinated by board/card games, being an amateur game designer myself," says Gabriel, who also enjoys music, swimming and reading fiction when he's not busy with his studies.
"I play the flute, some piano and some cello too, but above all I love composing. I like many genres, from mainstream electronic music to contemporary academic through French impressionism and Argentinian folk music."
He's super excited about being part of this year's Millennium Youth Camp. "It would be great to make lasting bonds between campers, as our paths in life could hopefully converge again. I feel that the MYC challenges me, but not in the sense of it being difficult: it challenges me to open my mind to broader possibilities, maybe setting higher goals for myself."
Anna Kuukasjärvi, Finland
"I admire all scientists, researchers, doctors and everyone who are in some way helping other people," says Anna Kuukasjärvi from Finland.
17-year-old Anna studies for the IB diploma in Tampere. "I've enjoyed science for as long as I remember. My favourite school subjects are Biology, Chemistry, Physics and Math. In my free time I dance jazz, modern and contemporary dance and that's actually pretty much all I have time for besides school," she says.
Anna wants to help people by becoming a medical doctor. Her dream is to study medicine in either Finland or the UK.
She thinks the Millennium Youth Camp is a great opportunity and is eager to seize it. "I'm hoping I'll meet a lot of new people and make a lot of new friends, and that we'll have a fun week full of science and learn a lot!"
Yuval Novik, Israel
"I believe everything holds the promise of being fascinating, and so I try to learn about as many new things as I can," says 18-year-old Yuval Novik from Israel.
He is interested in all fields of science and thinks it important to understand how inseparable science and life are. Furthermore he's passionate about the research project the Bio team is working on for the Millennium Youth Camp.
"It's awesome, and I hope to learn a lot from the project itself, and from the people I'll be doing the project with."
He enjoys everything with a flavor of novelty including people he meets, places he visits, cultures and so on.
"I'd like to make a difference in the world, doing something I love and am good at."
Güner Eskibozkurt, Turkey
"Working in a project that I am passionate about with people from completely different backgrounds makes me very excited," says Güner Eskibozkurt from Turkey.
At the moment she attends a boarding school in Istambul at the Turkish Education Foundation Inanc Turkes High School and is busy with both the IB and Turkish national curricula.
She is a clarinetist who also enjoys singing, travel photography and mathematics. Her dream is to play the clarinet in an orchestra performing music from the movies.
"I am now passionate about learning about mathematics, neuroscience and medicine. Other than these, I adore learning about new cultures. Learning new languages, trying new food and learning about other cultural traditions just thrill me. I am also very passionate about playing the clarinet and very excited about my coming concerts."
While she's fond of the idea of becoming a medical researcher, she's also keeping other options open.
"Ten years from now, I would probably be working in a university in the US as a researcher on neuroscience and medicine, but I might also decide to take a much different career pathway as well."
A friend encouraged her to apply to the Millennium Youth Camp and although she was at first apprehensive about the large number of competing candidates, her self-confidence was boosted during the application process.
She's looking forward to meeting science and math enthusiasts from all around the world at the Millennium Youth Camp.
Noa Shalom, Israel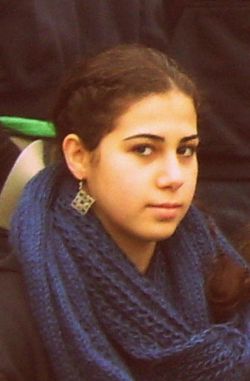 "I strive to always be curious. I do not stop asking questions or give up even if I make a lot of mistakes, I think outside the box and am not afraid to take risks when necessary," says 17-year-old Noa Shalom from Israel.
Noa is an active volunteer at the Jerusalem Zoo, participates in her school's student council and has experience in international Model United Nations projects.
"In addition, I am a member leadership organization called Mashazim. In the organization, young people from across the area of Jerusalem organize conferences, events, projects, and more… Personally, I'm also the main editor of the organization's newspaper, Mamyton."
She's excited about attending the Millennium Youth Camp this year and about meeting other teenagers interested in science.
"From the moment I heard about the camp, it became a goal for this year, so when I got in – I was the happiest girl in the whole world. It feels amazing, and I'm looking forward to the camp and to the project! I expect to know many new friends, learn a lot and come out with an unforgettable life experience."
Liisa Lutter, Estonia
"I'm looking forward to meeting all the other lovely campers, working together on our group projects and meeting inspiring scientists," says Liisa Lutter, a 17-year-old IB student from Estonia.
In addition to science, Liisa enjoys reading fiction, portrait drawing and painting and also plays the flute and guitar. Having lived in different countries, she has a passion for learning languages. "The process of language learning is fun and helps me to understand other cultures. I'm also really passionate about volunteer work, especially about HIV prevention and testing."
After high school she plans to study biochemistry and hopes to work in research someday in the future. Liisa's dream is to live in different places around the worls, meet new people and enjoy life.
"In the future I hope to work in research, continue moving around the world, meeting new people and enjoying life."