"Technology is being developed right now, and I wish to be part of that," says Andreea Cucu from Romania. Other members in ICT and Digitalization team come from: USA, Finland, India, Zimbabwe, and Bulgaria.
The ICT and Digitalization team of Millennium Youth Camp 2013 are working towards designing and implementing a prototype of Water Rover, a device that is capable of analyzing water quality.
The aim is to build a low cost device that knows the location and time a given sample is taken and has some communication capabilities to share the data with external devices.
Here are the members of the team:
Andreea Cucu, Romania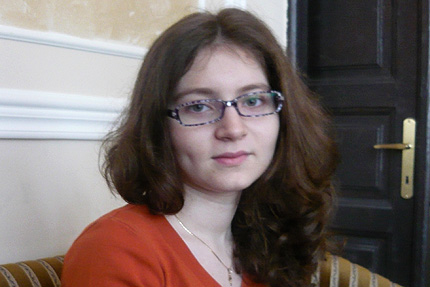 "For me, computers represent the future. Technology has developed at such a fast rate, that we are now living the life our grandparents couldn't even imagine. Technology is being developed right now, and I wish to be part of that," says 17-year-old Andreea Cucu from Romania. She has been particularly interested in programming since the 9th grade.
"Every time I have a problem with an algorithm, I become more fascinated with the world of programming. It feels like solving a puzzle, where some pieces have been put in wrong places. Finding your own mistakes is the hardest thing in the world, but I've gradually learned to do just that."
After high school, Andreea plans on applying to study Computer Science at university, and building a career in the field. "I want to be creative in my job. Designing a program demands imagination, flexibility and devotion. It's just like playing with Legos. You have to figure out the best way to put the pieces together, so that you can create something incredible," she says.
As for MY Camp, Andreea is looking forward to visiting Finland, and spending a week in multicultural environment. "Moreover, I would like to put what I've learn so far into practice, I haven't really had the opportunity before."
Dakari Lynch, USA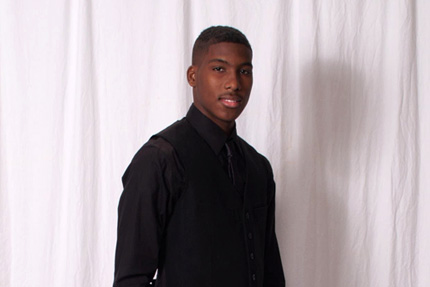 18-year-old Dakari Lynch studies in South Grand Prairie High School in Texas, USA. He is interested in science and technology. "These fields will enable me to contribute to the exciting technological and scientific development of society," Dakari says.
After high school, he intends to study Computer Science and Engineering, and after graduation pursue a career in Computer Simulations. "At MY Camp, I would like to learn more about my selected majors and the type of work I'll be doing in college and beyond."
Dakari's other plans involve tennis and his aim is to play professionally one day. "After that, I'd like to 'retire' to a career in computer science." He also enjoys writing science fiction, and has written a sci-fi thriller novel Power Insurgents. Its sequel is in the making.
"I am indeed looking forward to the Millennium Youth Camp; it will undoubtedly be an enlightening and empowering experience. I'm grateful to be part of such an awesome opportunity," Dakari adds.
Leevi Lappi, Finland

"I have always been intrigued by the most current findings of science. Anything mechanical or digital fascinates me. I want to know how things work, and have a habit of breaking things into pieces and rebuilding them," says 16-year-old Leevi Lappi, who studies in Ressun lukio high school in Helsinki, Finland.
In addition to science and technology, Leevi is also keen on learning foreign languages, English and Russian in particular. After high school he is thinking of applying to Aalto University. "But I also have a bit more ambitious dream to apply to a university in the sunshine of California…"
Lately, Leevi has taken interest in self-leadership. "I have taken many ideas from it to my life. And I think it makes me more positive, ambitious and aware!"
"I'm looking forward to see our and other groups' presentations, and see you all in June!" he sends greeting to his fellow campers.
Vipanchi Chacham, India

"I like Computer Science because the codes written to run a program fascinate me very much. I am currently learning JAVA programming. Also, the programs available today open up so many doors for our creative minds," says 17-year-old Vipanchi Chacham, who studies in Sri Sankara Senior Secondary School in Chennai, India.
She participated recently in a Robotix workshop where the participants learned to design cars. "My friend and I were the only girls' team that made it to the finals."
Vipanchi is also interested in Physics. "I like the working models of all instruments which we use in daily life." And like her teammate Leevi, also Vipanchi likes to dismantle small objects. "For example a flashlight and then attach it back together to see how it works."
In the future, Vipanchi would like gain more in-depth knowledge of the field of ICT. "I feel ICT will revolutionize the fields of health, education and agriculture. I plan to do research in ICT so I want to know about the research conditions and facilities in Finland."
Tawanda Brandon Sibanda , Zimbabwe

"I'm a social person, love making new friends and doing stuff together," says 17-year-old Tawanda Brandon Sibanda, a student of St Patrick's High School in Zimbabwe. He is fascinated by the digital world, by the potential of imitating nature, and robonoids.
After high school he intends to apply to study Software engineering and build a career in the field.
From MY Camp Brandon expects to, "experience a unique learning environment, and make new friends from around the world."
Martin Radev, Bulgaria

"I believe that science is just like a fiction book – you dive into a world of wonder and mystery, a world one cannot visit without imagination and creativity. For example, if you begin working on a research project no one has embarked on before, you will experience something new and develop ideas no one has ever thought of," says 19-year-old Martin Radev from Bulgaria.
"I like science because it enables me to understand nature and life, to be creative and at the same time have fun."
As for further studies, Martin has offers from universities in the UK and US. "I hope that I will end up in a good university where I can further enhance my mental skills and knowledge. Perhaps, I will consider Finland as well."
All MY Campers will be accepted to study at the Faculty of Science of University of Helsinki based on MY Camp attendance.
"I would select Computer Science as my major. I have been reading books and working on research projects in the field of Artificial Intelligence for the past 7–8 months, so, I guess I will continue to expand my knowledge and develop projects in this area."
Martin is looking forward to MY Camp's project work, which he sees as both exciting and demanding task. In addition, MY Camp is an interesting experience. "I have added some of the participants to my Facebook friends, and I can clearly see that all of them are exceptionally cool."
The main organisers of Millennium Youth Camp are Finland's Science Education Centre LUMA and Technology Academy Finland.
MyScience will introduce each of the 10 theme groups during the spring, and like during previous years offer news, photos, and videos from the Camp in June.