"Science allows me to better appreciate nature and reconsider the effects of my actions," says Samuel Amoako-Frimpong from Ghana. Other members in Energy team come from: Brazil, New Zealand, Italy, Peru, and China.
Team Energy of Millennium Youth Camp 2013 will be working on a project on grid-connected building-integrated photovoltaic systems.
The team members will select an interesting real building in Helsinki Metropolitan Area and study the physical, technical, economic and aesthetic factors that might affect the feasibility of grid-connected building-integrated photovoltaic systems on that particular location, and make creative and innovative proposal for the maximum utilization of photovoltaics in that building.
Here are the members of the team:
Jeffrey Dryden, Peru

"I love all types of science, but I'm especially fascinated by aerospace, and nano science – how such little things can be that strong and perform incredible tasks. And regarding aerospace, I love flying and am very intrigued by the many different pieces working together in aerospace", says 15-year-old Jeffrey Dryden.
Jeffrey was born in Canada, but has lived in many countries around the world. Currently he lives in Lima, the capital of Peru, and is an IB student at Colegio Franklin Delano Roosevelt.
Jeffrey hopes that MY Camp will help him narrow down his options for studies after high school. "For me, MY Camp provides an opportunity to see real-world applications of science. I will soon be applying to colleges and think that this camp provides an amazing setting to get a grasp on what I want to do in the future."
Apart from science, Jeffrey loves sports and plays softball, basketball, and volleyball.
Shuang Qu, China

"Physics is fundamental and useful. According to what I have learnt, many other subjects are based on physics. Don't you feel like physics can enhance your understanding of other subjects and of the world?" asks 15-year-old Shuang Qu or Ada from China.
She is a student of Shenzhen Middle School and plans on continuing her studies in the field of science or engineering after high school, pursuing a career in industry or organization related to scientific affairs.
Ada expects to get a many international friends at MY Camp and learn about the Finnish culture and lifestyle. She is also looking forward working on the project and preparing the presentation with her team mates and hopes to get answers to her questions regarding the advanced technology of their topic.
Samuel Amoako-Frimpong, Ghana

"In science, my interests lie in physics, engineering and technology. Apart from how interesting and challenging they are, they allow me to be able to understand the world, develop solutions to problems around me, utilise and implement my creativity, and also, to have fun creating interesting projects," says Samuel Amoako-Frimpong, 17-year-old Aerospace Engineering student at Kwame Nkrumah University of Science and Technology in Ghana.
In the future, he plans on pursuing a career in research and design of aeronautics, astronautics or robotics, and would also like to be involved in projects dealing with energy, water, agriculture and education. "I'm someone who likes to learn, experiment, discover, innovate and invent," Samuel adds.
"Science allows me to better appreciate nature and reconsider the effects of my actions on the world as a whole, while giving me the capability to change and affect the world positively."
At MY Camp Samuel expects to meet great, inspiring people from around the world, and spend an exciting week in Finland.
Matheus Mansour El Batti, Brazil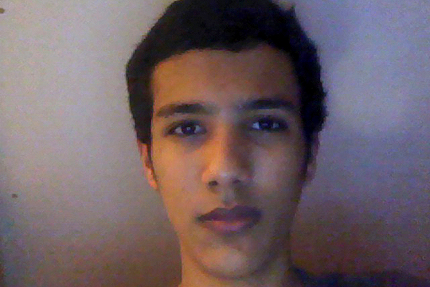 16-year-old Matheus Mansour El Batti from Brazil got truly interested in science after he won a bronze medal in Math Olympiad and started studying for other contests by himself.
"I like studying science because through it I have realized how magnificent our world is. The more I learn, the more I'm curious about what is around us", Matheus says.
He is a student at Colégio Integrado Objetivo. After high school his plan is to study some field of engineering in a university abroad and pursue a career in research.
Matheus is looking forward to MY Camp and is eager to learn from the youth and mentors he will meet during the camp. "I'm sure it will be one of the best times of my life, in academic and personal sense."
Caitlin Smart, New Zealand

"I'm a big fan of interdisciplinary approaches, as I believe that scientists need to share their knowledge and work with other practitioners in order to solve the 'big issues' facing us today, such as climate change, income inequality and a reliance on finite resources," says Caitlin Smart from New Zealand.
She is on her final year at St. Dominic's College. "I will be studying either engineering or a science/commerce conjoint degree at University next year. However, I'm still unsure about what the future holds, and I bet MY Camp will open up so many more opportunities!" Caitlin says.
She is interested in statistics, and also loves writing and public speaking. "I would love to set up a career as a Science Communicator, bridging the gaps between scientists and the public, scientists and business leaders, and scientists and other scientists! Be warned, that means you will have to listen to talk non-stop!", she says.
From MY Camp she is looking forward discussing how different countries are dealing with the big global issues. "I think it will be extremely, well, cool, to meet all these intelligent people from all around the world!"
Alberto Sartori, Italy

"The aspect of science that interests me most is the development of technologies for the production of clean energy. I hope that humans may find the energetic solution for the energy need and the well-being of the environment", says 17-year-old Alberto Sartori from Italy.
He studies at Liceo scientifico-tecnologico "Da Vinci" Arzignano, and after graduating would like to continue his studies in the field of science and technology.
Alberto is especially looking forward to learning new things related to solar energy technologies during MY Camp, and meeting interesting people who share his interests.
The main organisers of Millennium Youth Camp are Finland's Science Education Centre LUMA and Technology Academy Finland.
MyScience will introduce each of the 10 theme groups during the spring, and like during previous years offer news, photos, and videos from the Camp in June.