"I like challenges and using my imagination to solve problems – this is what drew me to this particular area of science," says Letitia-Ioana Birnoschi from Romania. Other members in Material Sciences and Technology team come from: Serbia, Singapore, Slovenia, Sweden, and Finland.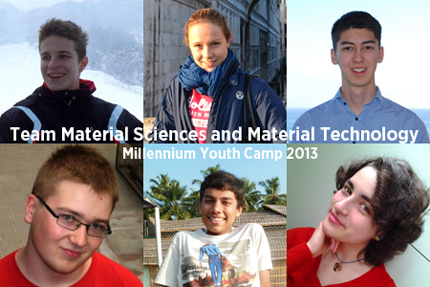 Team Material Sciences and Material Technology of Millennium Youth Camp 2013 will work together on a topic related to thermoelectric materials in personal energy harvesting, how to gain energy utilizing the temperature difference between human skin and the ambient environment.
The idea is to try and find a material and design a concept that would yield a high enough efficiency to charge for instance your mobile phone.
Here are the members of the team:
Abhi Parikh, Singapore

"I am mostly interested in Physics and Aerospace Engineering as they help me comprehend the world around me better. Moreover, I believe physics and engineering combined hold the key to solving the majority of our problems", says 16-year-old Abhi Parikh, who attends Victoria Junior College in Singapore.
Later, he intends to pursue higher education in the United States. "My biggest confusion is whether go for applied sciences or pure sciences. Whatever it be, my ultimate aim is to use my scientific knowledge to make this world a better place for everybody."
Abhi says Millennium Youth Camp is an excellent opportunity to get more globalized perspective to connecting, collaborating, and to make friends with youth who share his passion for science and technology. "What more could I ask for?"
Kristina Kovacic, Slovenia

"I'm interested in nuclear physics, organic chemistry and chemistry connected to pharmacological studies. In ten years time, I see myself working in a lab developing or improving a new medicine or a material", says 16-year-old Kristina Kovacic from Portoroz, Slovenia. She attends Grammar School in Piran, where she especially likes Chemistry, Physics and Maths lessons.
"Natural sciences are definitely my cup of tea but I also like to learn foreign languages. At school I study English, Italian and French," she says.
Apart from science, Kristina loves travelling and sports. "I am a very dynamic person, which is why I need to be physically active. I play tennis, jog and ski in wintertime. During the summer I am also very keen on different water activities, such as swimming, sailing and windsurfing."
Kristina sees MY Camp as an opportunity to combine her interests, and share the experience with other ambitious and curious youth like herself.
"I will visit a country in which I have never been to and have the opportunity to communicate and learn in English. To be honest, what more can you expect if you are only 16?"
Erik Li Strandh, Sweden

"I am a great aviation enthusiast. All the aspects of flight and engineering of aircrafts can be explained by the theories of physics. Additionally, physics can explain how our world works; everything from the tiniest particles to massive celestial structures. Isn't that fascinating!" says 17-year-old Erik Li Strandh, who attends Viktor Rydbergs Gymnasium Odenplan in Stockholm, capital of Sweden.
After high school, Erik's dream is to study aerospace engineering abroad. "I wish that I one day can work with aviation," he adds.
To him, MY Camp is a great opportunity to exchange ideas with young people from all around the world. "I think we will learn a lot during the week. I'm really looking forward to MY Camp!"
Letitia-Ioana Birnoschi, Romania

"If mad science was a recognized field of study, I would master it. Coming up with crazy ideas is my hobby but when it comes to work, my perfectionism kicks in: everything must be properly done and giving up is never an option," says 17-year-old Letitia-Ioana Birnoschi from Iasi, Romania, where she studies at Mihai Eminescu high school.
Letitia has not yet made up her mind on what to study after high school and where, but material science and pursuing a career as a researcher appeal to her.
"Chemistry and Physics give you the necessary 'building blocks' to create new things and materials, for example. I like challenges and using my imagination to solve problems – this is what drew me to this particular area of science."
During MY Camp, Letitia hopes to find out more about her favourite subjects from experts, and especially from other MY campers.
"From what we've already talked on edmodo.com and on the Facebook group, the campers seem great. I'm eager to meet every one of them. This applies to the guides, too," Letitia says.
Stefan Velja, Serbia

"I am very interested in physics and programming. I find solving problems or riddles and learning how things work very interesting," says 16-year-old Stefan Velja from Novi Sad, Serbia, student of Jovan Jovanovic Zmaj Gymnasium.
Apart from science, he is very interested in music and future will tell which one will be his career. "It is important to know that I sing whenever I can, so be prepared!" he "warns" his fellow campers.
Apart from singing, Stefan expects to learn a lot, make new friends and do an interesting project during Millennium Youth Camp.
Mikko Hongisto, Finland

"Exploring different options and finding new solutions is the essence of science as a concept and material science includes these ideas very well. You can find new and interesting things in other fields of science, but material science provides concrete devices, materials and solutions to problems", says 18-year-old Mikko Hongisto from Finland. He is a high school student from Tampereen Klassillinen lukio.
Mikko will graduate later this spring and start the mandatory military service in the summer. Next year, his plan is to study either medicine or engineering on university level. "Since I haven't decided yet, my future is quite fuzzy at the moment," he admits.
"I expect MY Camp to offer opportunities for me to learn and experiment new ideas and, naturally, make new friends."
The main organisers of Millennium Youth Camp are Finland's Science Education Centre LUMA and Technology Academy Finland.
MyScience will introduce each of the 10 theme groups during the spring, and like during previous years offer news, photos, and videos from the Camp in June.