To wrap up the amazing MY Camp 2012, here's a video of the whole week and words from one of the Campers, Daša Robič from Slovenia. Until we meet again…
"Unforgettable My Camp 2012 is unfortunately over. Even though I am in Slovenia now, are my thoughts and heart still among you – my friends, in Finland.
I will not even try to express my feelings and describe my enthusiasm about this experience, because we all know that it is impossible. Words cannot tell how great this week was!
I would just like to say that because all of you I am shining and smiling all the time. Because of you I can say that MY Camp 2012 was the best week in my life!
Thank you our godmother Maija Aksela! Thank you our mentors and thank you, my new friends from all over the world for this memorable week.
I won't write 'bye' in the end because this is not our farewell. I am sure we will stay in contact and meet again in the future. You never know… till then:
See you, love you,
Daša :)"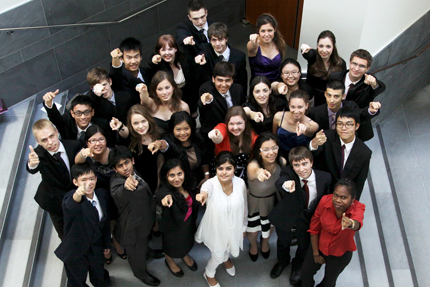 2012 MY Campers. Photo: Sakari Tolppanen.
Check out the MY Camp Video Channel on Vimeo and MY Camp Photo Collection on Flickr.
Stay tuned for more information on the application process of MY Camp 2013 in autumn 2012…