Helsinki awaits 134 Young Scientists to compete in the 23rd European Union Contest. With a bit over a month to go, the preparations are well under way. MyScience met up with Finland's 2011 EUCYS representative and 2002 EUCYS winner.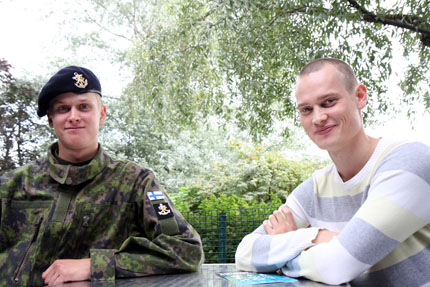 Jarkko Etula is doing his military service, thus the outfit. Lauri Kauppila is about to begin his second year in the University of Helsinki's Faculty of Medicine. Photo: Kirsti Levander.
At the beginning of this millennium, Lauri Kauppila, a student in the IB program of Helsingin Suomalainen Yhteiskoulu high school, was mixing different substances in his basement to create fuel for his rocket.
His research lead to 1st place in the national TuKoKe science competition and trip to Wien to represent Finland in the 2002 European Union Contest for Young Scientists.
Lauri's project swept the board, and he became the first and so far the only Finnish student to have won EUCYS. Yesterday, Lauri and Finland's representative for this year's competition, Jarkko Etula, discussed their views and opinions on what it is like to be a young scientist.
Tackling the unknown unknowns
The work of a scientist is often quite lonely. The support of teachers and other mentors is essential, but at some point, on the level exceeding their competence, one has to delve into the problem alone.
Jarkko has experienced this before even entering the world of academia while doing research on the border of two disciplines. "My chemist teacher told me it's not chemistry, ask your physics teacher and my physics teacher told me it's not physics, ask your chemistry teacher," he says about a problem he faced while doing his research on dye-sensitized solar cells.
According to Jarkko, scientist is its own personality type – someone with thirst for knowledge and hunger to find the unknown unknowns of the world. Competitions, like EUCYS, bring together these "propellerheads", as Lauri calls them.
The best thing about science competitions is to notice that "Hey, others are doing this as well," Lauri says emphasizing the social side of EUCYS. While meeting other young scientists, he realized that doing research is after all normal and even the most challenging projects possible.
Lauri has continued his quest for challenges to these days. Since graduating from Massachusetts Institute of Technology (MIT), majoring in Aeronautics and Astronautics, in 2007 he has returned to Finland and studies now Medicine at the University of Helsinki. And the research projects are again one step more challenging, he says.
How will Jarkko do in EUCYS? What about the representative from your own country? 134 14 to 21-year-old young scientists from 38 countries compete in Helsinki 23–28 September. MyScience will offer news, photos and videos during the event!
Are you EUCYS 2011 participant? Now it's your chance to get your research published in a peer-reviewed journal. Read more about European Journal for Young Scientists and Engineers.