MY Camp days spent doing project work, meeting important people, and visiting important places culminated in evenings spent together getting to know 22 different cultures and corners of the world.
Video: Janne Salo.
The International Evening was scheduled for Tuesday, but as it turned out that a 5-minute presentation is a rather flexible concept, the evening continued on Wednesday too, with an essentially Finnish ending on the shore of Lake Sääksjärvi, with sauna, swimming, and singing and barbecue around camp fire.
On Tuesday, there were also prestigious guest in the audience as the 2010 Millennium Prize Laureate Stephen Furber was seated in the front row with the President and CEO of Technology Academy Finland Ainomaija Haarla and the godmother of MY Camp Professor Maija Aksela.

The front row. Photo: Sakari Tolppanen.
Other important guests included three of last year's Campers from Finland Oskari Vinko, Paula Hietala and Wenlei Dai. For them the first presentation was probably not as exotic as it was for most of the 2011 MY Campers.
Essi Paunisaari, Sara Laurila, and Nyyti Kinnunen from Finland arranged the Camp's own wife-carrying competition. Finland, the land of weird world championship competitions, hosts an international competition in it annually.

Team Russia–The US in the lead. Photo: Sakari Tolppanen.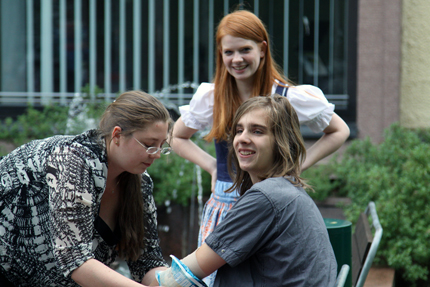 "Camp Mom" Heidi Handolin mending Bruno Marinič's wife-carrying injuries. Photo: Sakari Tolppanen.
After an active start, where minor casualties could not be avoided, the two evenings continued with intriguing and funny presentations with slideshows, videos, guitar and piano playing, singing, dancing, and origami folding.
During the evenings, it became clear that Serbia rules the world in almost every field of sports, New Zealand is in fact situated on the top of the world, Bulgarian women like men in suits, Russian berries keep you going, the proper name for Bangkok is really long, and Indian men really know how to dance.
To form a round trip around the world, Tuesday evening started with a Finnish tradition and Wednesday night ended with traditional Finnish activities. After everyone had taken the stage presenting their own countries, it was time for lakeside sauna.

Dennis Baffoe Agyei in the lakeside barbecue hut. Rest of the photos: Janne Salo.
The rainy weather did not stop the Campers from dipping into the lake. After many rounds of sauna and swimming, all were feeling a bit peckish, and it was time to barbecue sausages and enjoy other foods and beverages outdoors.
But before that, the hosts and guides taught the Campers a Finnish-language song by J. Karjalainen called Sankarit (Heroes), which became familiar to everyone during the bus rides and evening activities along the rest of the week.
After lakeside supper, the Campers got to sing more familiar tunes as well accompanied by a guitar and ukulele. One of them was Justin Bieber's Baby, which later became the second Camp song, with different lyrics though…

Cristian Alemán from Nicaragua. Music was one of the aspects that united the Campers from five continents.

Elza Firdinia Shofia from Indonesia.

Arian Kermanchi from Iran, living in Finland.
MyScience will publish more news, photos and videos from MY Camp during this week. Read also MY Camp profiles to get to know, who the 2010 and 2011 MY Campers are.
More photos from MY Camp in Flickr and more videos from MY Camp in Vimeo.